WebOS to go open source-will HP get it right?
With Android and iOS ruling the roost in the mobile market and Windows expected to make some spectacular breakthrough in the near future, it seems like HP is making some serious attempt to revive the vanishing operating system WebOS as on December 9th, HP has announced that WebOS will soon be released as an open source platform. As the OS is almost left to disappearing due to its weak tablet and smartphone sales, one cannot deny asking the question: what value does HP see in this struggling platform?
The WebOS platform, which was actually rolled out on the Palm Pre, was expected to enjoy more wide ranging adoption after HP-the world's largest computer manufacturer-bought Palm in 2010 for 1.2 billion USD. However, the first signs themselves proved that HP had made the wrong move as HP's initial WebOS smartphone offering, the Veer, was universally ignored by the buying public. In related news, rumors were all ripe stating that American retail giant Best Buy was all set to slash the price of HP's failed Touchpad tablet in an effort to clear its warehouses of around 250,000 units of unwanted stock.
The meticulous attempt which is being made by HP now to revive the OS by making it an open source platform will allow the platform to continuously develop for eventual inclusion in a tablet with minimal contributions from HP though it initially seems to be a bad idea in the present scenario. Right now, it is Google's Android which has risen to the top in open source software with over 197 million smartphone shipments in 2011. The fact that OEMs do not have to pay royalties or fees to the content providers is what that makes an open source platform preferable. But OEMs using Android users are subject to patent litigation which is remedied at the end by companies by paying fees for patent protection. The sunny side is that this makes WebOS a more attractive alternative to Android as HP already owns much of the IP required to protect OEMs from patent litigation, from its acquisition of Palm in 2010, without any additional fees.
HP is already renowned to be a giant in the computing world with major product lines in personal computing devices, enterprise and industry standard servers, related storage devices, networking products, software and a diverse range of printers and other imaging products. As such, HP's entry into the realm of wireless was a step away from their core competency. By focusing more into their roots, HP has the potential to develop WebOS primarily for tablets, which are more in line with their core products. This will aggravate the competition which the ARM based version of the upcoming Windows 8 that Microsoft has recently announced will have to face in the market.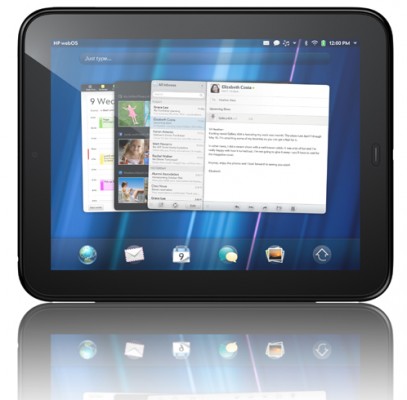 So, here is hoping to see the critically acclaimed WebOS software powered Hewlett-Packard's tablets making the right waves in the market which is aching for a strong competitor to Apple's iPad…